For most, handling the legal aspects of an eCommerce store is anything but fun, which is understandable. One important legal component of an online store is having a privacy policy. Here's how you can add a Shopify store privacy policy to make your life easier.
What is a Privacy Policy?
Privacy policies are statements or legal documents that disclose how an organization processes and collects personal information. A privacy policy is a good way to protect yourself and your customers if you own a Shopify store.
Why you need a Privacy Policy for Shopify
At some point or another, your site will collect personal information. Data privacy laws such as the General Data Protection Regulation, California Consumer Privacy Act, and Personal Information Protection & Electronic Documents Act require that you have a privacy policy that fully informs customers of this.
If you don't already have a privacy policy, you can consider using an accessible privacy policy generator or look up the Shopify stores' privacy policy templates. You could also consider appointing a Data Protection Officer to improve your company processes further and collects personal data.
Steps to add a Privacy Policy page
Shopify can generate policy templates for you, but you'll be responsible for tracking the policies you have published and ensuring that they align with the needs of your business.
Log in to your Shopify dashboard, then go to Settings > Policies.
If you already have it ready, enter your store's privacy policy or select "Create from template" to use a default template. You can use the rich text editor to format your policy or add links and images.
Have a look at your policy to see if any changes are required.
Click "Save" to publish your policy.
Besides the privacy policy Shopify requires, you can add a refund policy, terms of service, shipping policy, and legal notice. Once published, Shopify store privacy policies are automatically linked to the website footer menu of your checkout page.
Adding the Privacy Policy to the navigation menu
It's essential you display the privacy policy quite clearly. The most common place to display it is in the footer. This makes it really easy for anyone to find the Privacy Policy when visiting any page on your site.
To add it to the footer, follow these steps:
Go to your Shopify dashboard & click "Online store"
Click "Navigation"
If you have a footer menu, click that. If you don't, click "Add menu"
Click "Add menu item" > enter a name > Click "Policies"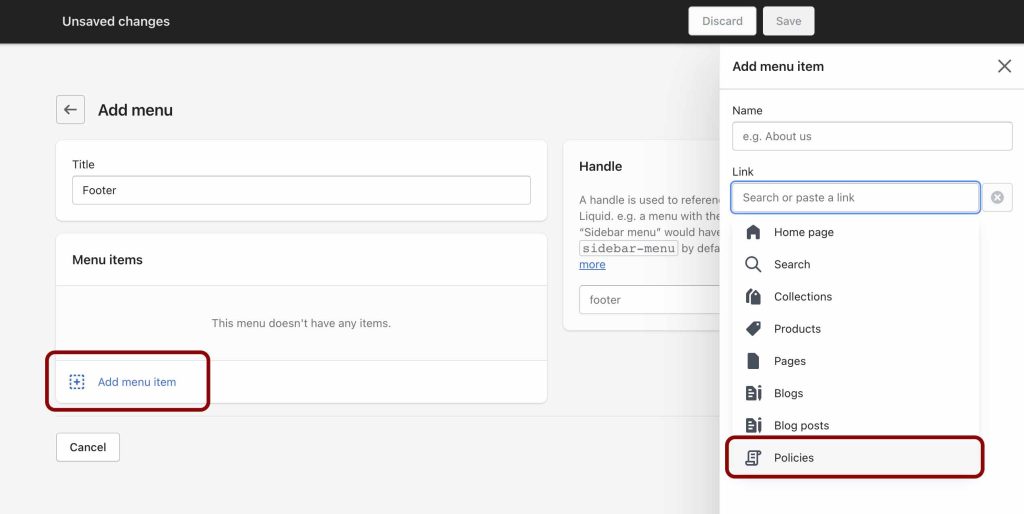 Choose "Privacy Policy" > click "Save".
If you have created other policies, then you can follow this exact same process.